Via Rob, who got it from
David Pinto
, Eddings just doesn't know when to quit. According to
this article
in SI, Eddings claims that earlier in the game, he called a dropped third strike more emphatically. So now we have Eddings NOT calling a dropped third strike as he had done earlier in the game, and we have him making the same arm movement he made on every strikeout. Yet the players are magically supposed to realize that all of the sudden, with two out in the bottom of the ninth, he changed his mind on how he would call this play. Sometime between that point earlier in the game, he decided to stop alerting players to dropped third strikes, and he decided to make his fist pump motion BEFORE the batter was tagged on such plays for the first time all game. Hmm, what do you call someone who does such a thing?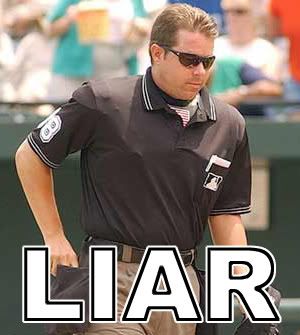 That goes for you guys too, Mike Port and Steve Palermo. You really ought to watch a video of the game before embarrassing yourselves with statements like:
(Palermo) "I hope people realize that if we are able to clarify this, Doug Eddings did everything he was compelled to do and required to do.

And he did all of those things consistently.

He did his job."
Umm,
not quite
, Steve.
(Port) "Summarily, Doug Eddings did nothing wrong. He gave the same signal for all swinging strikes. If the question is, 'Did he call Pierzynski out on strikes?' The answer is no. He was indicating the batter swung at the pitch."
Hey Mike, can you tell me why his 'strike' call on every other third strike in the dirt all night wasn't given until AFTER the batter had been tagged? Betcha can't, because you're a hack. And you've always been a hack, which is why the Angels did crap when you were with the ballclub.
Meanwhile, everyone's (including me) favorite whipping boy is the
voice of reason
:
After arriving in Orange County on Thursday, in preparation for tonight's Game 3 between the White Sox and Angels, McCarver expressed his point of view.



"The most salient thing that comes to my mind is the catcher can feel he has caught the ball without it short-hopping into the mitt,"

McCarver said. "As a catcher you just automatically roll the ball back to the pitcher. Inning over.



"Josh Paul caught the ball. He knew he caught the ball. You know if there is leather between the dirt and the ball. As a catcher, he just knows that instinctively. I know Josh Paul has been taking some heat, but he shouldn't be.



"If anything, give credit to A.J. Pierzynski for running down to first base. He took a shot, and it worked out for him."

Eddings said after the game that the ball changed directions before it reached Paul's glove, meaning it hit the dirt.

"I'm sorry, I didn't see it that way," McCarver said.

"Every replay I saw shows that ball was caught.



"I think the White Sox know they got away with one. But what are they going to do, not take it?"

As much as I dislike listening to McCarver, he's right. And it's not the first time. In 2002, after two pitches, he predicted that if Felix Rodriguez missed to Scott Spiezio inside, Spiezio would hit a three run homer. Six pitches later, you know what happened.
Mark this day on your calendar. I may never agree with Tim McCarver and
Joe Sheehan
on the same day ever again.